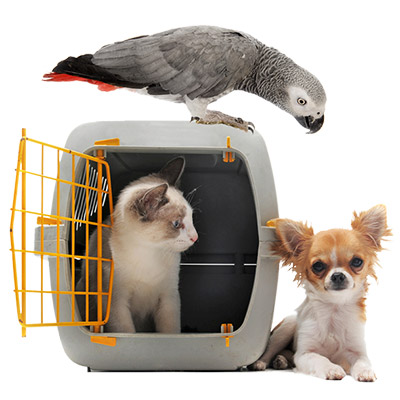 Requirements of Pet Shipment
• A rigid container that conforms to the IATA Live Animals Regulations must be used
• Pets must be comfortable in their cage or kennels. There should be enough space left when they sit or stand
• Water container must be fixed to their kennel
• A towel or blanket or special pad should be provided before the flight
• Animals should not be placed in the same container unless they are young puppies or kittens. Each airline has its own regulations and should be checked prior to shipment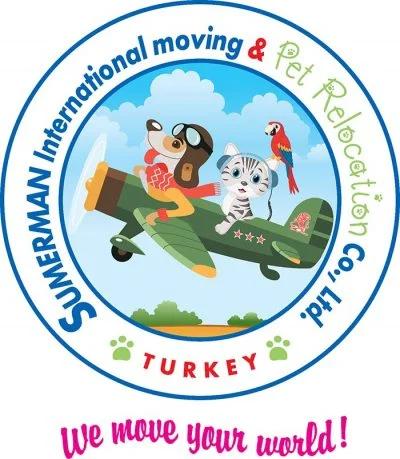 SUMERMAN International moving co., ltd. provides complete pet relocation services for our clients. Relocating your pet involves many minute details that you may not be aware of when you are considering your move. Once you start planning your move, you may have many questions such as: where your pet will be shipped to/from; how to find the proper airline(s) that will accept pets and care for them; the routes your pet will take during the trip; what flights are available and when and how well your pet will be cared for during the trip.
As the only certified pet relocation agent in Turkey and a member of The Independent Pet & Animal Transportation Association International (IPATA), SUMERMAN International is like a travel agent for your pet.
We can handle all arrangements to ensure the personal care and handling of your pet, from the time your pet is picked up at your home until it arrives at your new home – any place in the world. We arrange for the pick up of your pet at home, whether in Turkey or elsewhere, all required certificates and immunizations, boarding (if required) due your travel timetable, customs export clearance, flight details, customs import clearance, and delivery to your new home or boarding at destination if required. With SUMERMAN International, you will feel at ease with the care of your pet which is an important part of your world.

Requirements of Pet Shipment
Required documents for PETS import/export
Import:
Due to pet import requlations one person can only import 2 pets in one AWB
Owner's original passport (Must have entry stamp within 30days of pet/pets arrival)

Notarized power of attorney

Turkish ID or Tax number

Pet passport or Health record

Microchiped

Valid Rabies Vaccine

Internal & External worm treatment (Within 10days of arrival)

Rabies blood test 
AIl pets arriving Turkey must have Rabies Blood test from approved Laboratory (Please find the approved lab list in below.
https://ec.europa.eu/food/animals/pet-movement/approved-labs_en
There is no waiting period. Pets can be shipped after the test done
Please do not send the pet/pets on arrival weekends (Saturday & Sunday)
If pet arrives after 15:30 we can either clear the pets with paying overtime (until 22:00) or pets will stay in AVI room (In the kennel) at the airport and we will start the import process next day. During stay at the airport, they will be feed and watered.
Arrival of pets should be notified at least 1 week prior to the shipment
In case consignment include endangered species as described in the Convention of International Trade in Endangered Species
of Wild Fauna and Flora (CITES), regulation should be checked with our office at least 4 weeks prior to shipment
Export:
IMPORTANT : Import regulations vary by country. Some of the countries have very strict import regulations. In order to get accurate information shipper should better contact our office.
Notarized passport copy (ID Page)
Notarized power of attorney (we will provide the sample)
Turkish ID or Tax number
E-ticket copy
Pet passport
Microchip
Valid Rabies
Rabies blood test 

(with 90 days waiting after blood drawn)